Top
HSAG's Data Science & Advanced Analytics (DSAA) Division addresses the increasing role of information technology, data collection, and advanced data analysis in the healthcare industry. DSAA applies a multidisciplinary systems approach to address the unique needs of each of its customers, incorporating an array of healthcare expertise ranging from epidemiology and biostatistics to econometrics and data science. Using a data-driven approach, HSAG's staff members analyze both qualitative and quantitative data to provide actionable recommendations for the improvement of healthcare delivery across the continuum of care. Core competencies of the division include advanced healthcare analytics, survey administration, support for public reporting programs, program and waiver evaluations, performance measure calculations, consumer guides, National Committee for Quality Assurance (NCQA) Healthcare Effectiveness Data and Information Set (HEDIS®) Compliance Audit™ reporting,* statistical analyses, and program evaluations.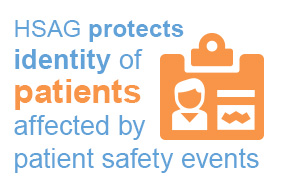 Patient safety events (e.g., any adverse incident resulting from medical care that may have been preventable) result in thousands of avoidable deaths, cost the healthcare community billions of dollars each year, and cause unnecessary harm to patients and families. Confidentially reporting details surrounding these events can help hospitals share best practices, reduce the occurrence of adverse events, and foster an environment of accountability.
In response to this growing concern and in accordance with the Patient Safety Act of 2005, the Agency for Healthcare Research and Quality (AHRQ) created the PSOPPC. HSAG assists in operating and managing AHRQ's PSOPPC, which provides assistance to Patient Safety Organizations (PSOs) with the goal of improving patient safety and quality by encouraging voluntary, confidential reporting of patient safety adverse events such as surgical complications, birth trauma, medication errors, and medical equipment failures. There are more than 80 PSOs in 30 states and territories that contract with more than 19,000 providers to collect millions of safety and/or quality reports.
As part of our PSOPPC work, HSAG:
Supports AHRQ in developing and maintaining nationally standardized data collection instruments, which help providers report patient safety events using uniform definitions and improve providers' efforts to eliminate preventable harm to patients.
Developed statistical disclosure control protocols to render patient safety data nonidentifiable as mandated by the Patient Safety and Quality Improvement Act of 2005, and to ensure the privacy of all parties involved.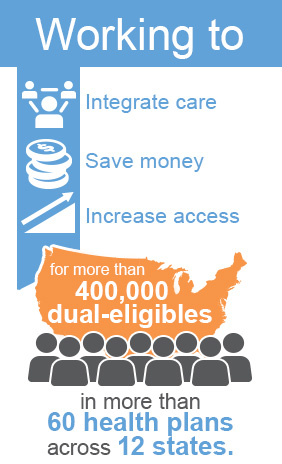 There are currently more than 10 million Americans enrolled in both the Medicare and Medicaid programs, which accounts for approximately one of every five Medicare beneficiaries. These Medicare-Medicaid enrollees, known as dual-eligible individuals, often have complex and costly healthcare needs. In an attempt to integrate the care for these individuals, CMS implemented the Financial Alignment Initiative in 12 states. Through the Initiative, states and health plans partner with CMS to:
Better align the financing of the Medicare and Medicaid programs.
Increase access to quality programs that seamlessly integrate primary, acute, behavioral health, and long-term services and supports for these enrollees.
Eliminate regulatory conflicts and cost-shifting that occurs between the Medicare and Medicaid programs, states, and the federal government.
In an effort to preserve and strengthen Medicare-Medicaid enrollees' access to and quality of care, HSAG:
Conducted readiness reviews to evaluate participating Medicare-Medicaid health plans' operational capacity and ability to offer high-quality, coordinated care while adhering to all federal and state laws and regulations.
Develops and maintains common core and state-specific performance measure specifications, which are reported by all participating health plans and states to provide CMS and key stakeholders with feedback on the initiative.
Conducts performance measure validation for select measures confirming that data reported by health plans are accurate so that CMS and the states can make appropriate determinations regarding whether a health plan has met performance requirements.
Obtains feedback on enrollees' satisfaction of the quality of care provided in select states using the Consumer Assessment of Healthcare Providers and Systems (CAHPS®) Survey.**
Provides technical assistance and expertise to CMS, the 12 states, and almost 70 health plans participating in the Initiative.
*HEDIS® is a registered trademark of the National Committee for Quality Assurance (NCQA). NCQA HEDIS Compliance Audit™ is a trademark of the NCQA.
**CAHPS® is a registered trademark of the Agency for Healthcare Research and Quality.